Ravens-theme Home Theater Ready for a Repeat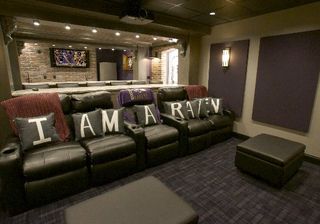 Owners celebrate Superbowl XLVII win with a tribute to their favorite team.
The owners of this 14-by-35-foot theater were fortunate enough to have their Baltimore Ravens-inspired theater finished in time for their beloved team's Super Bowl victory last season. They're hoping for the same outcome this season, particularly after offensive lineman Marshal Yanda visited their theater recently for ideas to incorporate into his own media space. 
Baltimore Ravens Marshal Yanda visits Ravens-inspired theater.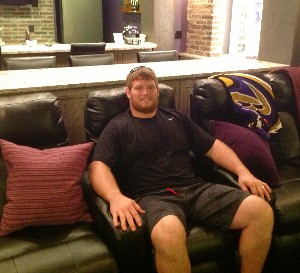 Outfitted by the custom electronics (CE) professionals at Timonium, Md.–based Gramophone, the renovated basement features a 100-inch screen and powerful surround-sound system capable of producing all the heart-pounding excitement of being on the 50-yard line. And, the drinks and hot dogs are a lot less expensive, available right at the bar at the back of the room.
Naturally, the signature colors of black and purple dominate the space, and these dark hues help the images on the screen pop. An Epson PC6010 1080p video projector shoots sports, as well as movies and TV programs from a cable box and Sony Blu-ray Disc player to the Stewart Filmscreen Firehawk screen. Closed captioning accompanies whatever is being displayed, which was a critical element of the design, says Gramophone's Bruce Spivey, because one of the homeowners happens to be deaf.
Also important was that the speakers "disappear." Lack of available wall space had the Spivey and Gramophone interior designer Bethany Johnson scratching their heads. "The screen takes up almost all of the available wall space at the front, and there's no wall really at the back because we extended the room to include a bar area," explains Johnson.
The solution: The left, right and center speaker were custom made by Leon Speakers to match the width of the screen and fit directly below it, and two B&W rear surround speakers tucked behind acoustical paneling on the wall. Two B&W subwoofers were, however, left freestanding to ensure big, feel-it-in-your-gut bass during crucial plays of the game.
All of the A/V, as well as the Lutron RA2 lighting, can be operated from a Savant control app on the owners' iPad.
Equipment
Lutron RA2 lighting control system
Leon HZ414 custom speaker 
Stewart Filmscreen 100-inch Firehawk screen
B&W CMW7.5 surround speakers
B&W ASW610XPB subwoofers
Cinemacoustics acoustic panels
Epson PC6010 video projector
Integra DTR50.4 surround receiver
Integra DPS50.3 Blu-ray Disc player
VIP Calloway motorized leather seats
Savant control system with iPad app
AudioQuest interconnects and speaker cables
Pioneer Elite 50-inch plasma TV
Originally Featured On Electronic House | September 12, 2013, by Lisa Montgomery.
View our case study here