TV Mirrors Satisfy Many Needs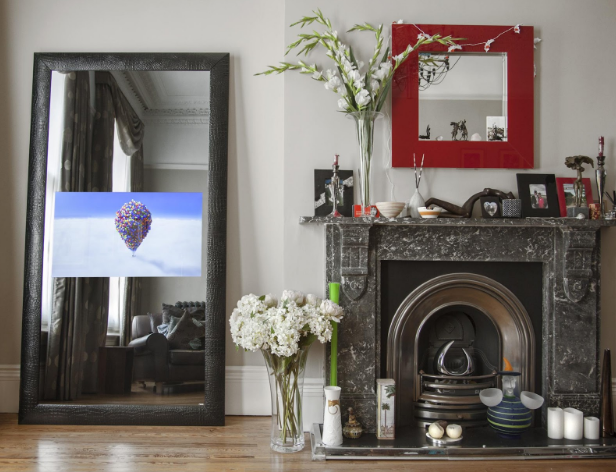 Today's busy adults want access to entertainment and information whenever and however they can get it. But they don't want the technologies and devices they use to clash with a home's design or the décor of a room. A TV mirror could be the perfect solution for complementing a family's lifestyle and maintaining the design elements of almost any room or space. Whether it's above a bathroom vanity, set in an elegantly carved frame in the living room or strategically mounted in a home office, a seamlessly integrated TV mirror satisfies a homeowners needs on a variety of levels.
Choose Your Screen
TV mirror technologies allow almost any size and type of flat-screen TV - including 1080p, 3D, 4K and OLED - to double as a mirror. The system utilizes a layer of dielectric glass that turns transparent or opaque by simply turning on and off the unit. Smaller screen sizes can be strategically integrated in a large mirror over a bathroom vanity, allowing dad to shave and watch the morning stock report at the same time, while large screen TV mirrors recessed in a living-room wall can provide high-definition entertainment for the whole family. Turn off the set and the TV screen disappears, transforming the unit into both a practical and elegant mirror.
Uncompromised Picture Quality
Treated dielectric glass allows integrated TVs to project the optimum amount of light and true color reproduction homeowners expect from today's high-end TVs. Several glass options are available to compensate for the lighting in a room, whether it's a brightly lit bathroom, dimly lit study or an open patio.
A Room With a New View
TV mirrors can be seamlessly integrated into any room or space where a regular flat-screen TV would seem obtrusive or plain dangerous. Those include bathroom vanities, showers, fitness rooms, dressing rooms, bedrooms and kitchens. Water- and weather-proof models can be installed outdoors on a patio, poolside or by a hot tub. Vanishing versions of mirror TVs completely hide the TV when the unit is switched off, while the TV screen is exposed in non-vanishing models.
Architects, designers and homeowners can choose from hundreds of mirror and frame styles to complement any room or space. Custom-built frames are also an option. Whatever style is chosen, mirror TVs can be designed to turn something regular into a true piece of art or practical solution homeowners will no longer be able to live without.
Sound As Good As It Looks
The frame and glass of a TV mirror does not impact the sound quality of the TV. Integrating a few speakers or a full sound system, homeowners can experience high-quality audio wherever the TV mirror is located. In-ceiling and in-wall speakers, as well as those designed liked lighting cans and outdoor objects, such as rocks, are other options.
Planning Pays Off
Since many TV mirrors will be installed in areas where temperature and moisture are factors, it's wise to include them in the planning stages of a new home or remodeling job. Building codes, ventilation and mounting options are just a few factors to consider in the planning process.
Making the Right Choice
Architects, interior designers and discerning homeowners have dozens of options to choose from when deciding the type, style, size and location of TV mirrors. With so many choices available, it's often difficult to pick the right one. At Gramophone we are technology and design experts who stay a step ahead of all digital and home integration trends. We are happy to discuss any projects you are working on to help put together the optimal solution that fits your clients' lifestyles and budgets.