Top 10 Holiday Gift Ideas | Day 5: Integra Receiver
Our Holiday Gift Giving Guide for 2011 features a number of products to enhance not only your home stereo system, but also your home theater experience.  Integra Receivers work hard to provide you with the best audio/video quality your system can provide! Integra has done a great job of staying on top of technology and integrating features into their products to help "future-proof" the technology, such as the ability to download firmware updates to your device.  
How does Integra do what they do?
Our passion with what reaches your eyes and ears begins in the minds of our people.  We find engineers and designers who are more than just good at what they do-we find the fanatics. Then we provide them with the absolute finest parts and materials, the most sophisticated test and measurement equipment available and facilities that are second to none.  It doesn't stop there.  Far from it.  We back it all up with the support and technical resources of a parent company with an unparalleled track record of audio engineering excellence that spans more than half a century.  The end results are a company and a product line that has never had any intention of being the biggest. Just the best.
The Integra 30.3 A/V Receiver is one of Integra's entry to mid-level receivers, but you won't feel like you had to settle for something.  By integrating services such as Spotify, Pandora, and SiriusXM, you'll have your favorite music & radio stations available at your fingertips.  And with a plethora of inputs & outputs, these receivers are ready to do the real work it takes to tie all of the pieces of your system together.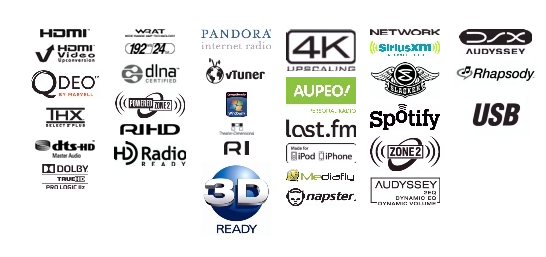 Integra's receivers can now be controlled with an app made for Apple & Android devices, 
The Functions Enabled by the Integra Remote Control App include: 
Internet radio operation. Stations can be selected directly from the app, without the need to view a TV display; 
Control of streaming audio files from a DLNA-compatible server. An iPhone/iPod touch can be used to select music directly from the server; 
General remote-control button operations; 
Information such as radio-station frequency displayed when listening to radio. (Note: available only on A/V receivers with a built-in radio tuner); 
Links to the latest surround technology information and new product promotion videos. 
---
Whether it's because it's 3D-ready, supports your favorite streaming app, is the right price, has won the right awards, or some combination of things, there's one thing we're sure of: The box is easy to wrap as a present.  Have you ever tried to wrap a football? It's nothing like that.  The box is a beautifully smooth rectangular shape that allows for giftwrap to envelope it quickly & simply!  
So, we're now halfway through our Top 10 Holiday Gift Ideas, what are your favorites so far?