Top 10 Holiday Gift Ideas | Day 4: Pro-ject Debut III Turntable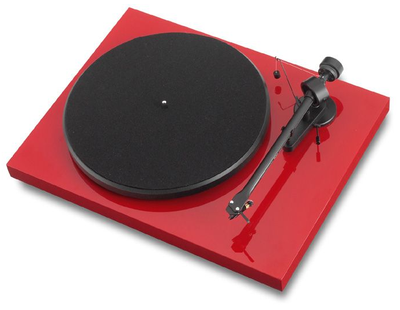 From Turntable Kitchen to Baltimore's own Sound Garden, the charm of vinyl has returned, making the Debut III turntable the ultimate holiday gift for the music lover. It's also featured in our "Retro Style" section of the 2011 Holiday Gift Giving Guide.  
No other analog hi-fi product has been more often honoured to be a real "Best Buy" than the Pro-Ject Debut III. A real bargain with outstanding sound quality! And with a large selection of colors, the choice won't be whether or not to buy it, but which color you want it to be!  
Still going strong more than twenty years after the opening for business, Pro-ject offers a wide range of performance-oriented turntables. The Debut III is Pro-ject's mid-entry offering at $370 in a matte black finish, with high gloss color options for an additional $30. Looking for more details about the Debut III? Featuring a belt-driven steel platter, aluminum tonearm, and a pre-mounted Ortofon OM-5E moving magnet cartridge, the Debut III's performance can also be improved with additional upgrades, such as an acrylic platter ($109), and an external motor and speed control unit ($159) which makes it easy to switch speeds from 33 to 45.
What Stereophile has to say:
Suffice it to say that the performance of the Pro-Ject Debut III startled me with the level of musical realism possible at this price. Its shortcomings vs more expensive gear were clearly audible, but the Debut III would be an excellent first turntable to suck an incipient if not quite budding audiophile into the hobby. So listen up, youts: Bag those MP3s and get into vinyl. But don't be tempted to upgrade the cartridge on this baby—the Ortofon OM 5E is just fine. Instead, take the cash you've saved, buy a record-cleaning machine, and hit those used-vinyl stores and yard sales!
Whether the turntable is being given to a person who has an overwhelmingly large collection of vinyl, or is being given to a person who you want to introduce to a whole new world of music, the Debut III will be the perfect fit. The Debut III will make the person in love with music smile just a little bit wider.
---
Additional Resources: