New Home Renovation Tour!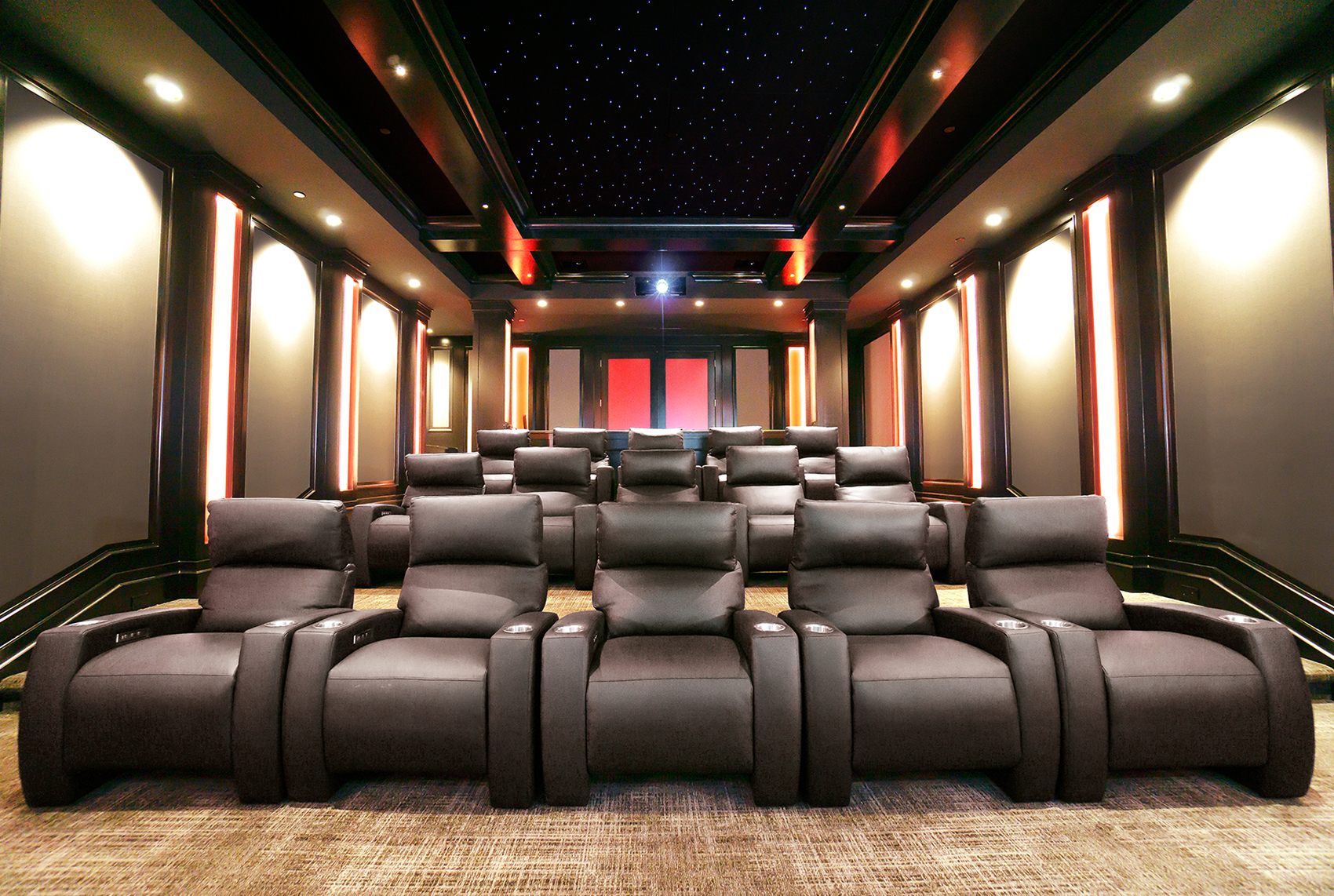 Explore this Stylish and Smart Entertainment Suite
Explore this newly completed Gramophone-built basement! This home theater is the true culmination of a client with discerning taste, highly skilled designers and installers, and behind-the-scenes smart home technology. With plush leather furnishings and stately wall treatments, this project was clearly inspired by the classic theatre designs of the golden age of film. But you simply have to look up to see the best of technology smoothly ushering this theatre experience into the modern age. The ceiling is seemingly lit by a hundred stars and discreetly tucked out of sight in the command position, a Sony Laser 4k projector is responsible for high-quality images on an enormous Stewart Directors Choice Screen. The client stipulated that this pre-defined space comfortably seat twenty guests, so to accommodate our team dug down to allow for the creation of risers. The Sonance & JL Audio Dolby Atmos Sound System coupled with Crestron Automation, Kaleidescape 4K HDR Movie Server, and Lutron Lighting Package makes this space majestical to the eye and impactful to the gut. There's simply not one bad seat in the house, get your popcorn ready!
Innovative Solution to a Challenge
This newly constructed custom home took almost 3 years of construction and 18 months of planning. That being said, our theater was a pre-determined size and shape that required our team to work backward into the whole design. Commonly, when constructing a new theater we look at desired occupancy and seating, screen size, placement of gear to help determine the overall size - however aesthetics and the surrounding room layout allocated our dimensions. Our customer wanted a beautiful space, uncomplicated by speakers or equipment, but compromising on the sound or picture was not an option. The goal was to be engulfed by the space. It was also extremely important that this theater accommodate 20+ guests, an impossibility in the allotted space. After considering, we convinced the builder to dig down and provide a pit that would provide the necessary space for more rows of seating with clear sight lines. When you can't go wider or deeper, why not dig down!
The Right Team for the Job
Gramophone's installation team consists of extremely high-quality AV technicians, high voltage electricians, lighting designers, and programmers. We worked with the customer's design team to ensure their vision was executed - our team not only deployed the low voltage, but we also installed the high voltage lighting, fixtures, and helped furnish the theater.