Meet the Sonos Move 2: Next-Level Portability with Superior Sound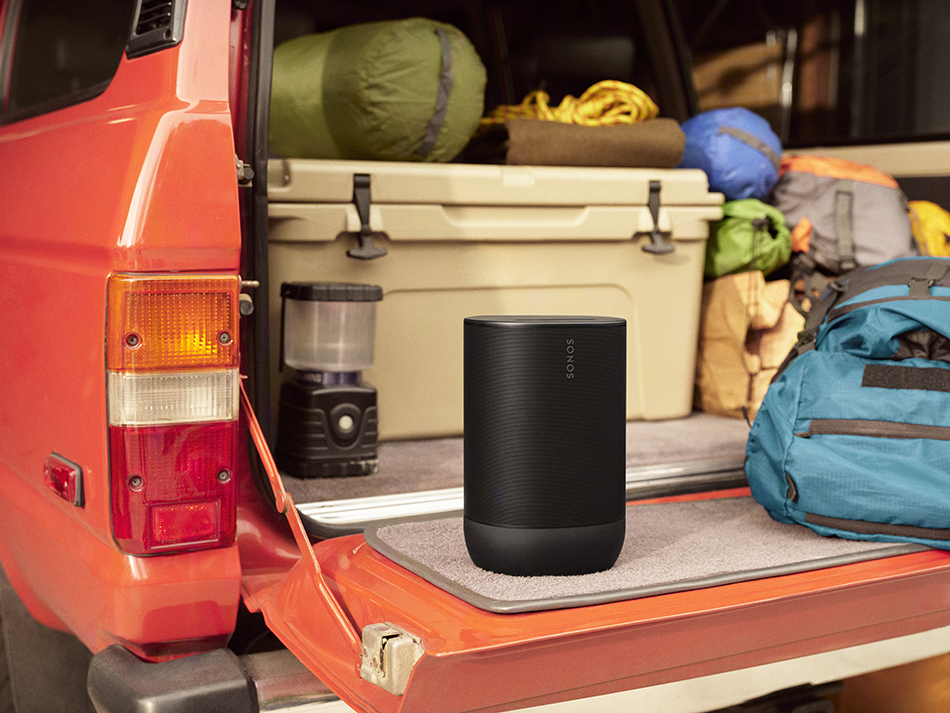 Do you love music, and want to take it with you? In the '70s, boom boxes, as well as small, portable, headphone-based tape players, became all the rage. A boom box lets multiple listeners enjoy songs, which headphone-based players could not. They weren't super portable, and didn't sound great - but people LOVE having their music with them. Is there a modern, great-sounding, attractive, and compact music player, that's affordable too? Yes! Check out the awesome Move 2 from Sonos!
The Move 2 allows you to enjoy all kinds of streaming content. It is easily portable, sounds great, looks great, and is even IP56-rated to resist moisture, so you can take it to the pool or the beach. It is only one speaker but can re-create a stereo soundstage. Twin tweeters are built in, angled at 45 degrees, for a convincing left and right image. That creates a more life-like musical experience than is possible from a traditional, one-tweeter single chassis product.
This single-stereo streaming speaker is easy to carry (just over 6 pounds), and it doesn't take up much space once you get to your destination. There is also plenty of surprisingly tight and accurate bass for such a small chassis, as the woofer is DSP-controlled. A really cool feature called Automatic TruePlay™ uses built-in mics to gather sonic information on what your Move 2 sounds like in the room you've just entered, and automatically adjusts the sound, optimizing it for this new, larger (smaller, or more reverberant) space. How cool is that?
One of Sonos Move 2's best features; is the battery life is rated for 24 hours of continuous play without needing to recharge, a wonderful upgrade from the 10 or 11 hours of their best-selling original Move. You can play all morning, and all afternoon, and entertain guests all evening - and Move 2 comes back for more. Set it into the Wireless Charging Base (included in the box with the Move 2), and it quickly charges back to a 24-hour life.
It's easy to connect the unit, and access your favorite music - from unboxing to enjoying songs in no time, set up is a breeze. You can quickly pair it to a Bluetooth device such as an Android or iOS phone, tablet, or laptop, and stream your favorites. You'll get even better sound if you connect to your WiFi network; either wirelessly, or by hard-wiring Move 2 to your router with an ethernet cable.
Plug in the Move 2, connect to the WiFi network, and download the Sonos App to your mobile device. Follow the on-screen prompts, and you'll love the sound in no time. The Sonos app allows you to add many of today's most popular streaming services for albums or individual songs. Browse your favorite music streaming services, such as Spotify and Apple Music, giving you quick and easy access to your favorite music. Search internet radio stations - literally thousands of them from around the world on Sonos Radio - audiobooks, and podcasts.
Touch controls on top: you can also control the Move 2's basic functions from the top of the unit if you're near it and your mobile device isn't handy. Turn up or lower the volume, advance to the next song repeat the current one, and so on.
Even better, Move 2 can be the heart of your whole music library. Just add other components, to get ALL your favorite music. Connect a CD player and listen to your discs, or a phono preamp for plugging in your turntable, laptop computer with all your favorite songs on it, etc. Just use the Sonos Line-In Adapter, a 3.5mm to USB-C interface. Connect that to an auxiliary cable from your CD player or other source, and let the fun commence.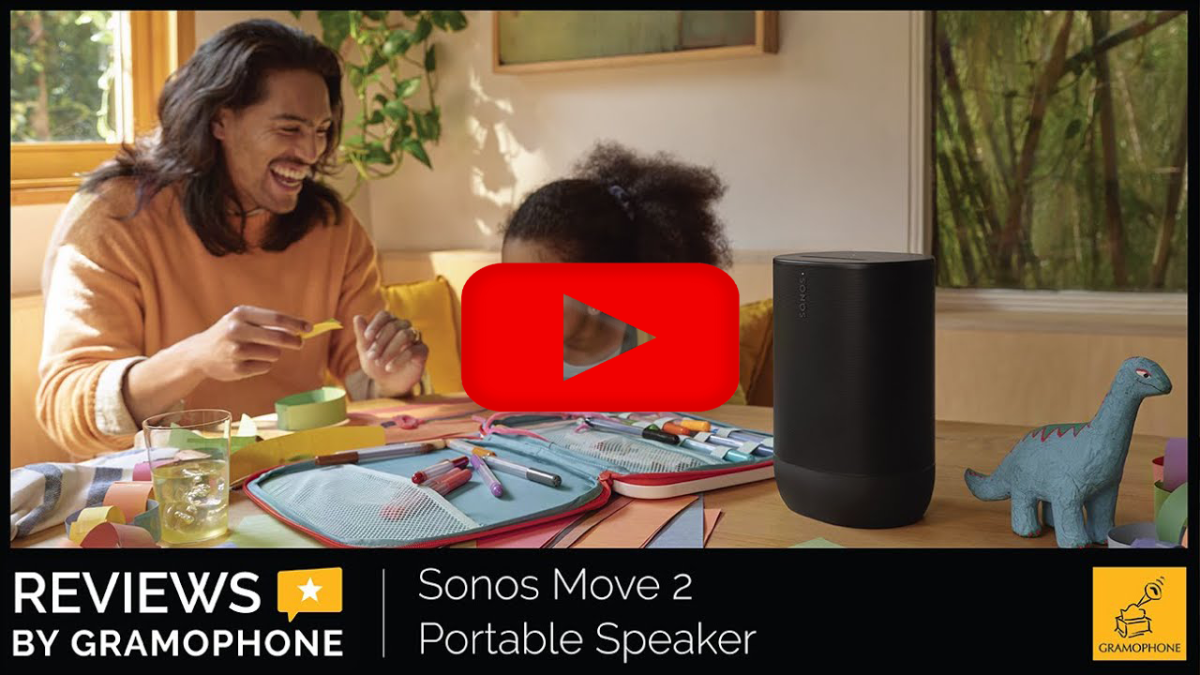 It's surprisingly flexible, too, especially for apartment dwellers or others who can't easily run wiring. You can customize your sound by wirelessly connecting to other Sonos speaker products. If you're having a party, you can put a Move 2 or other Sonos speaker in other rooms in the house, for a whole-house music system without running wires all over the place. Nice!
Add a Sonos soundbar, subwoofer, and rear speakers for a complete home theater, with no need to mess up your living room with wires, or a second Move 2 for an even more convincing stereo presentation.
Move 2 even offers Sonos Voice Control, and supports Amazon Alexa too. Just add those services to the Sonos app. There is a little "speech bubble" on top to disable voice assistance for privacy concerns. But you still retain the mics that enable Auto-TruePlay, bringing you the best sound for the room.
Last, but not least - colors! Move 2 is available in black, white, or olive green, to match your home decor. At just $449 retail, we believe this product is a can't-miss for bringing your favorite music with you. Order yours today at SKY by Gramophone, for secure check-out and fast, free shipping.