GRAMOPHONE LIVE! ON LOCATION: VIP FALL EVENT 2022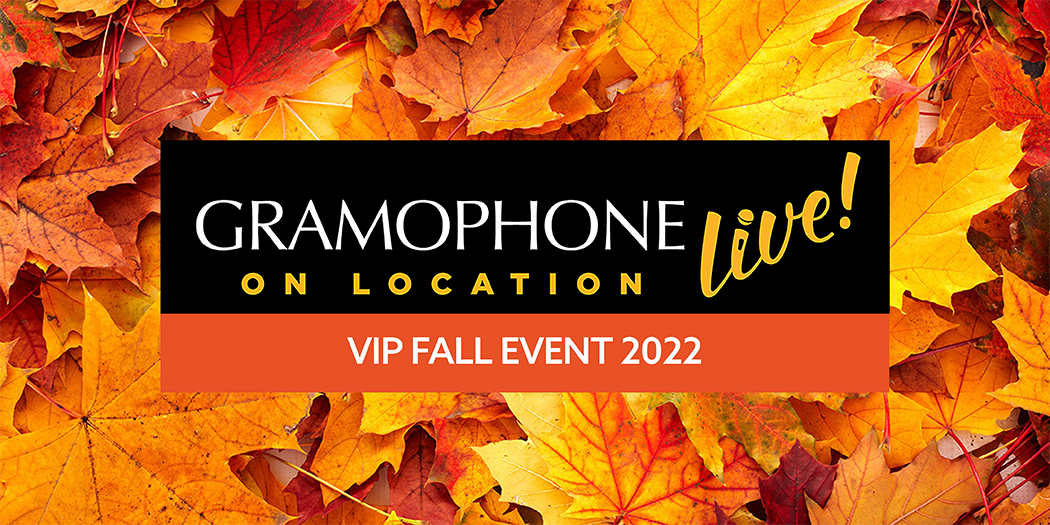 Last week we had the pleasure of welcoming hundreds of guests to our unforgettable two-night event - Gramophone LIVE! On Location! It was a great opportunity to partake in demonstrations of magnificent high-performance audio & video of world-renowned brands for audiophiles and home entertainment enthusiasts! Our guests were able to watch 30-minute demos performed by vendors and also ask questions and simply interact with all the professionals that were here in person! A truly wonderful way to learn more about these brands that are pioneers in its industry, such as Audeze, Bluesound, Bowers & Wilkins, Classé, HiFi Rose, Kaleidescape, Marantz, McIntosh, MoFi, NAD, Pro-Ject, Rotel, Sonus faber, and SONY!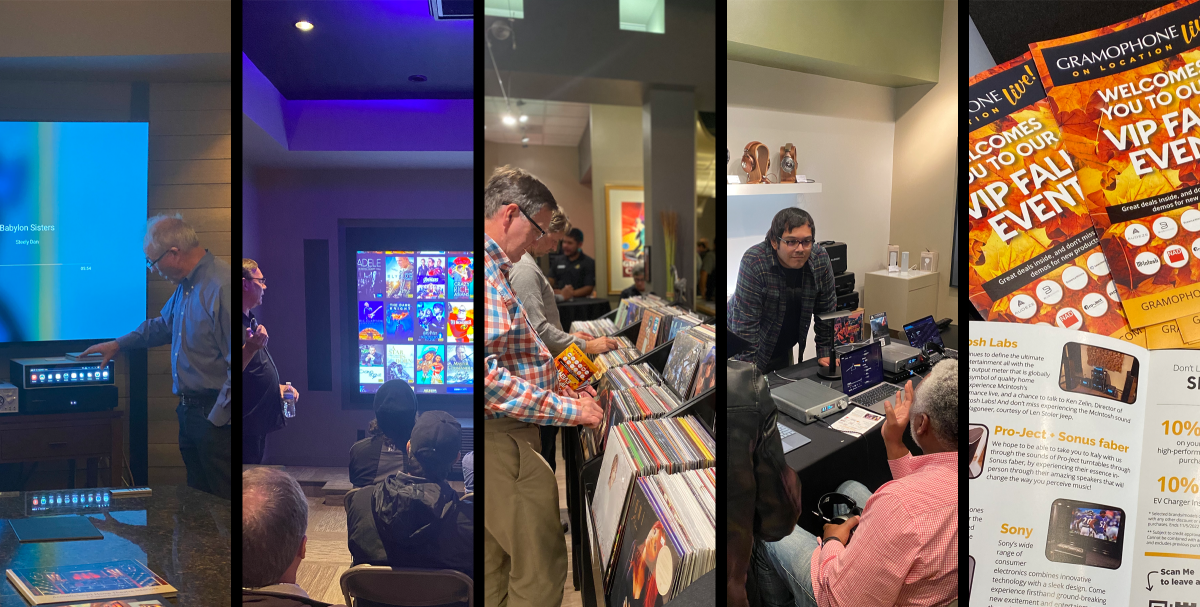 The demos were the highlight of the night and the guests left the events mesmerized by what they experienced! Audeze showcased their incredible headphones, such as the MM500, all connected to various headphone amplifiers and various playlists, so people could sit and focus solely on the sound! They couldn't believe what they were listening to! Bluesound and NAD presentations were an instant hit, and they were able to showcase speakers, streaming amplifiers, and the new Powernode Edge! Bowers & Wilkins, Classé, and Marantz performed at a high level, highlighting the 800 Series from Bowers, the Delta series from Classé, and the Cinema collection by Marantz. Guests were also able to participate in an amazing giveaway, with the chance to win a new Bowers & Wilkins Px8 Headphones Bond Edition! The HiFi Rose and MoFi room was also a hit, with demonstrations of the powerful and gorgeous HiFi ROSE RA180 Integrated Amplifier.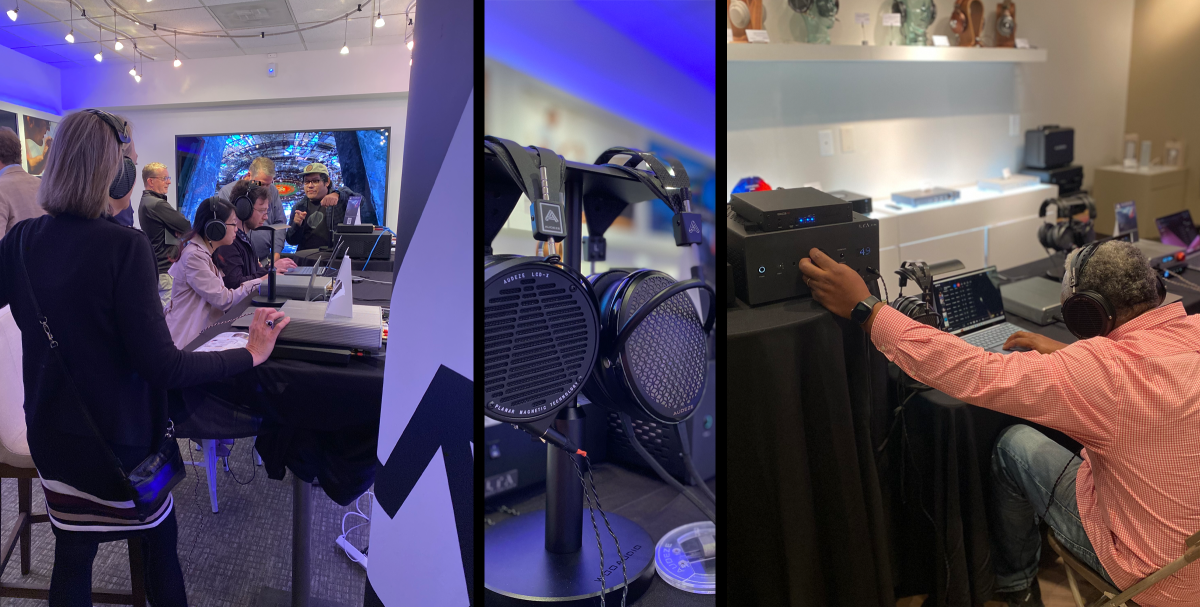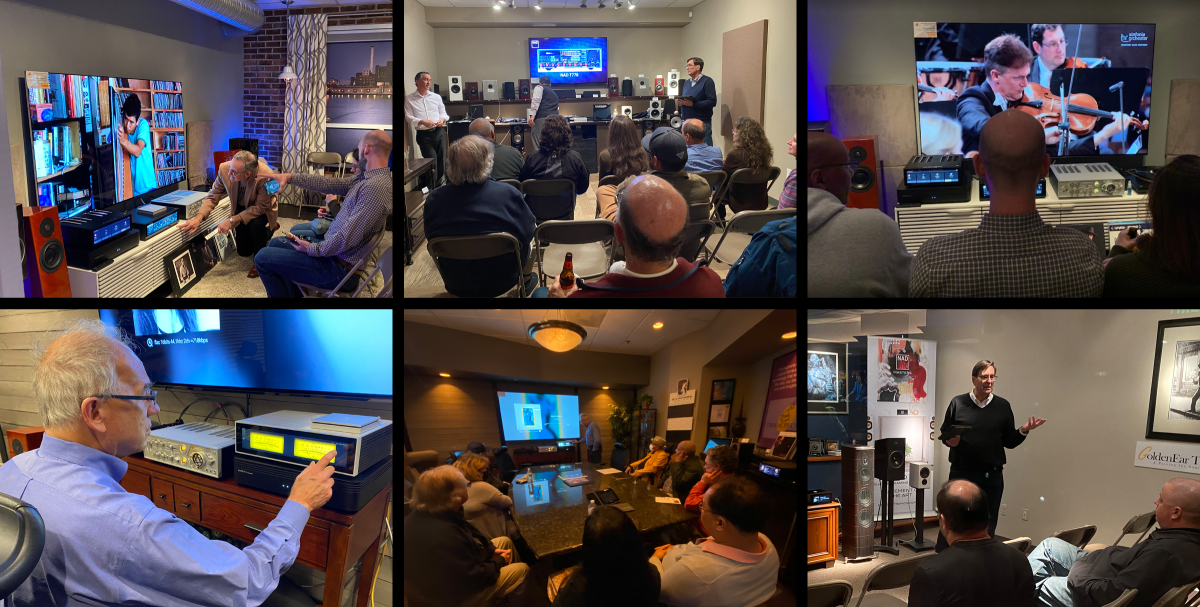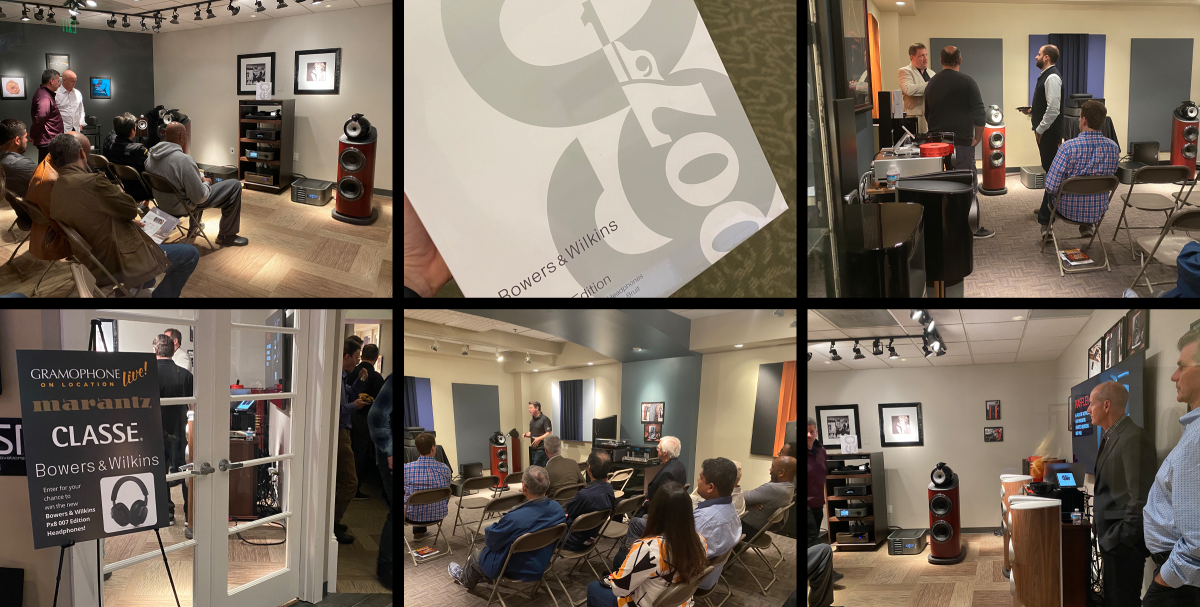 Kaleidescape, Sony, and McIntosh presented our guests with the true cinematic experience, and people could learn more about how a home theater should really be equipped with! The McIntosh and Sonus faber HiFi Room was the place for the true audiophiles, with demos being performed by the one and only Will Kline from Sonus faber! Ken Zelin from McIntosh was also present, which only makes everything much more special! Pro-Ject, Rotel, and Sonus faber brought their "A" game and the guests could experience firsthand how you can't go wrong with this combination. Pro-Ject and Sonus faber had the opportunity to showcase their amazing mix and match between the Sonus faber Omnia and the Pro-Ject Turntables. This bundle is available for purchase at Gramophone Showrooms and at SKY by Gramophone! We also had a really special presentation by the pros from McIntosh! Our guests were able to experience the McIntosh System in the JEEP Grand Wagoneer, courtesy of our clients and friends from the Len Stoler dealership! What a night!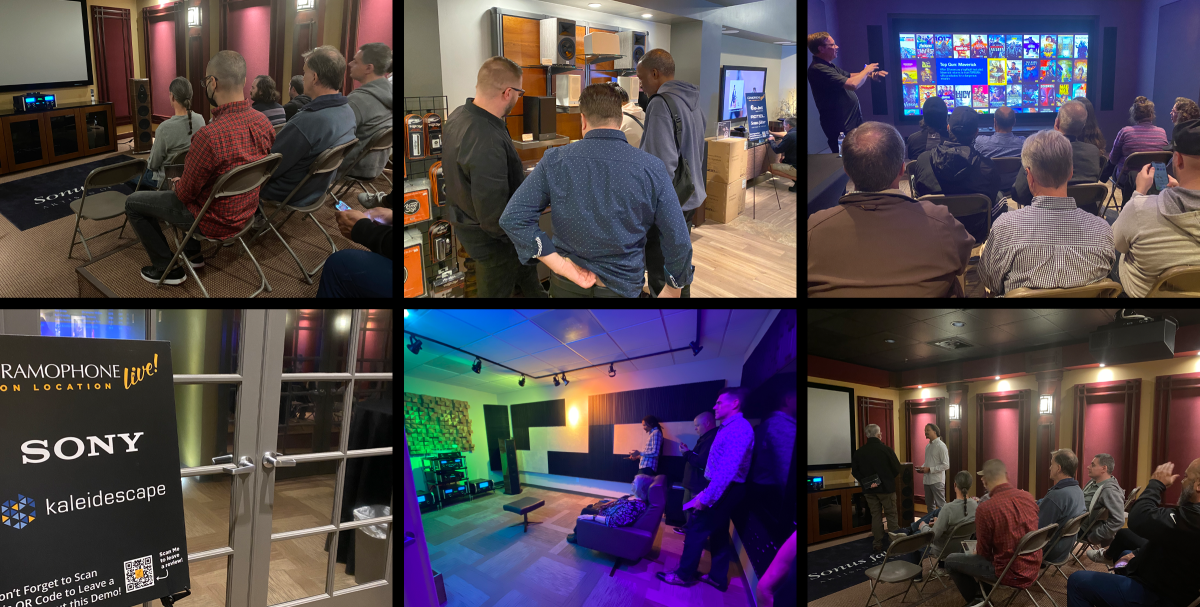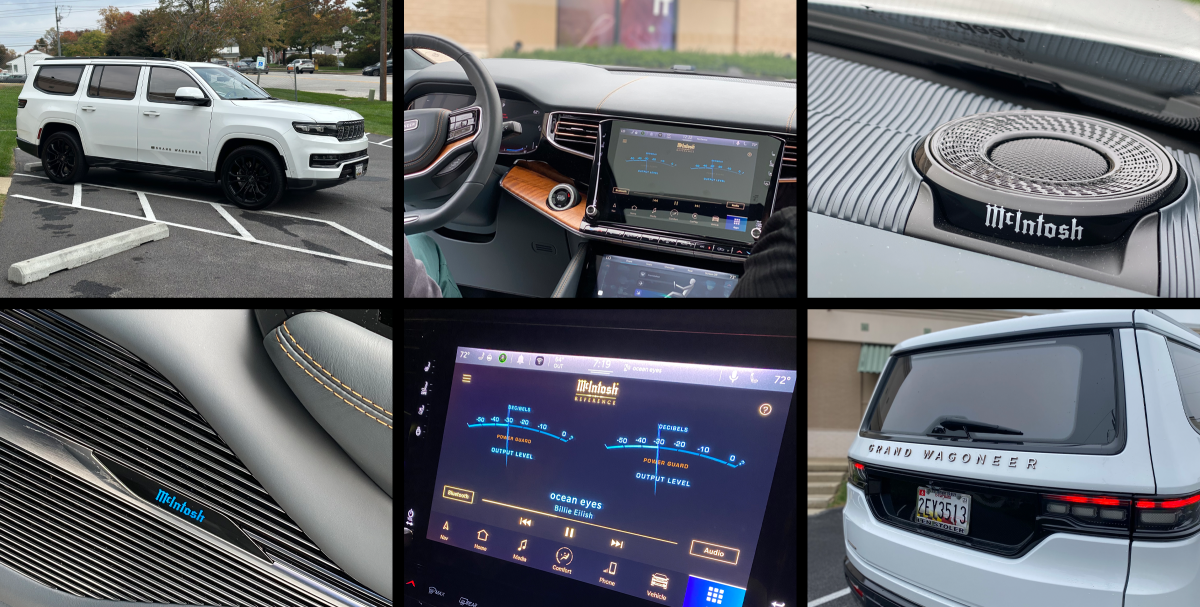 For the first time ever, we live-streamed both nights of the events on our YouTube channel, so that all our audience could be a part of the event, even if from their homes. Luke Wilmer, as always, did an amazing job showcasing the most epic moments of both nights, as well as interviewing the vendors and the Gramophone professionals. The videos for the events are available on our YouTube channel, so we invite everyone to watch them and be immersed in this that definitely was the ultimate VIP fall event of 2022! 
WATCH Gramophone LIVE! On Location - Timonium, October 26th.
WATCH Gramophone LIVE! On Location - Columbia, October 27th.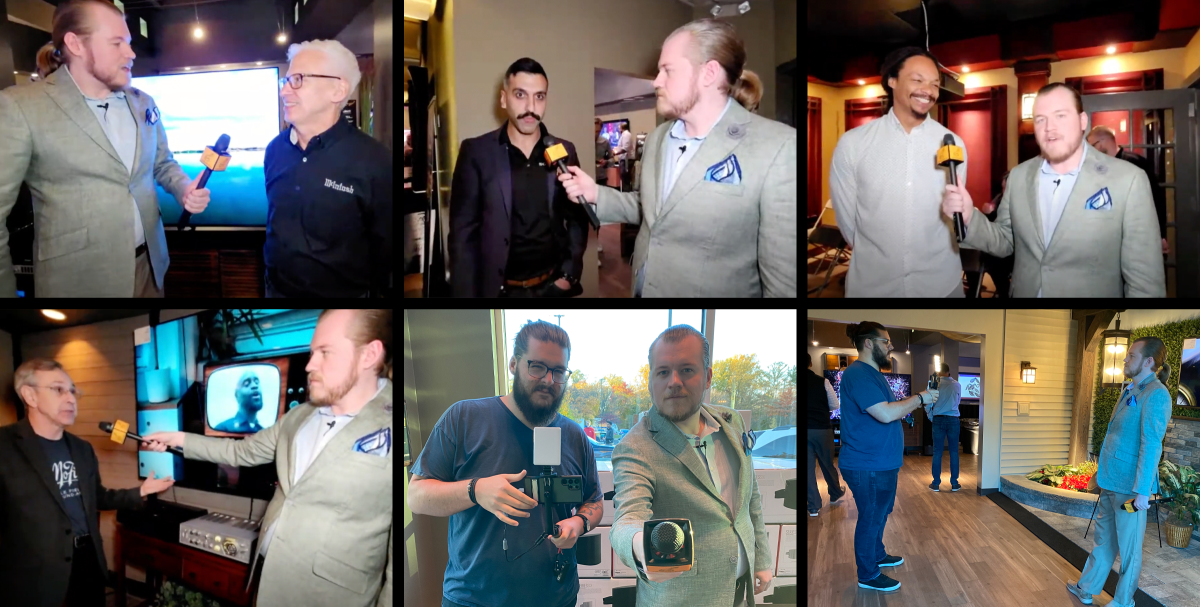 Last but not least, we want to thank everyone for coming and joining us on these special nights! We are grateful for your presence, your business, and your loyalty!  
We hope to see you at our next event! 🍂🎶🥂