CE PRO 2022 HOME OF THE YEAR: GOLD AWARD WINNER!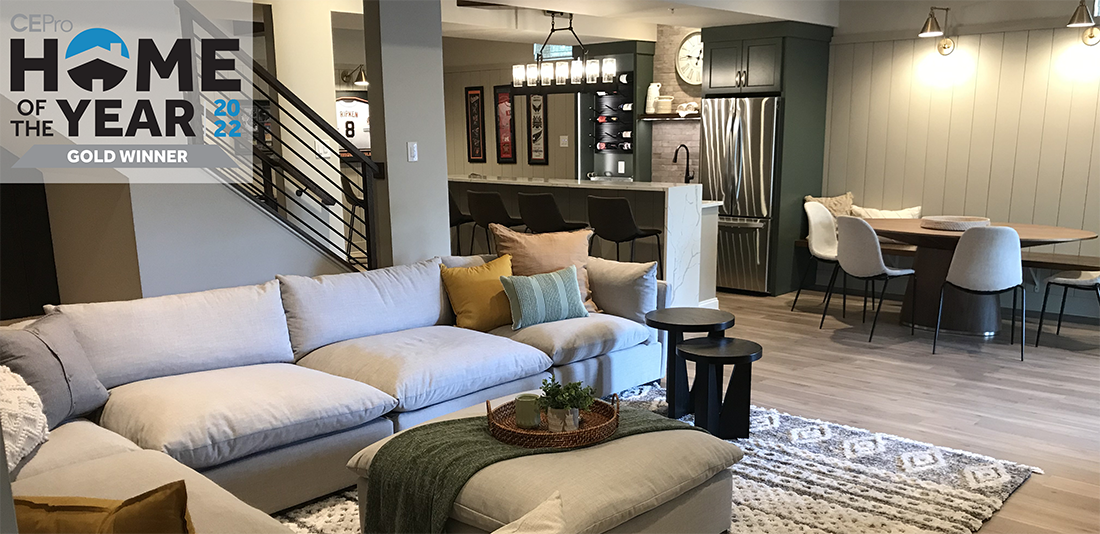 We are proud to announce that CE Pro awarded this basement renovation Home of the Year:
Best Media Room / Den / Multipurpose Room!
The clients are a young family who wanted us to help them create a new and renovated space from their existing finished basement, where the entire family could be together as well as entertain guests. They began their journey in our showroom confused about why they were standing in a lighting lab evaluating light fixtures. I recall the customer looking at me as if I misunderstood their desires for a newly renovated entertainment space/club basement. I think the first thing they thought we would look at was big screen TVs and speakers that would impress the kids and support large gatherings. Usually, we like to start with the problem spots and areas that most company's competencies fall short and that's where our advantages are found - we understand layered lighting, proper networking, along with a design flow that makes the experience of automation, home theater, and hosting gatherings based around a summer pool party or winter football game enjoyable and unique.
So how did we turn an existing finished basement come to life? We looked to our design professionals to provide us with a proper home for a Short Throw system that worked very well with the ambient light and with no need for a dungeon or enclosed theater that might make entertainment awkward for kids and friends. This budget-friendly solution allowed us to provide a large fixed screen of 100" that resembled a flat panel TV with a strikingly awesome picture. We coupled the 4K Hisense projection with a Marantz AVR, GoldenEar Surround Sound package, Salamander Design Short Throw cabinet, multiple zones of distributed audio, Sonance Outdoor Garden 8.1 Landscape solution, Ruckus Wifi upgrade throughout the whole home, Control 4 automation & lighting control.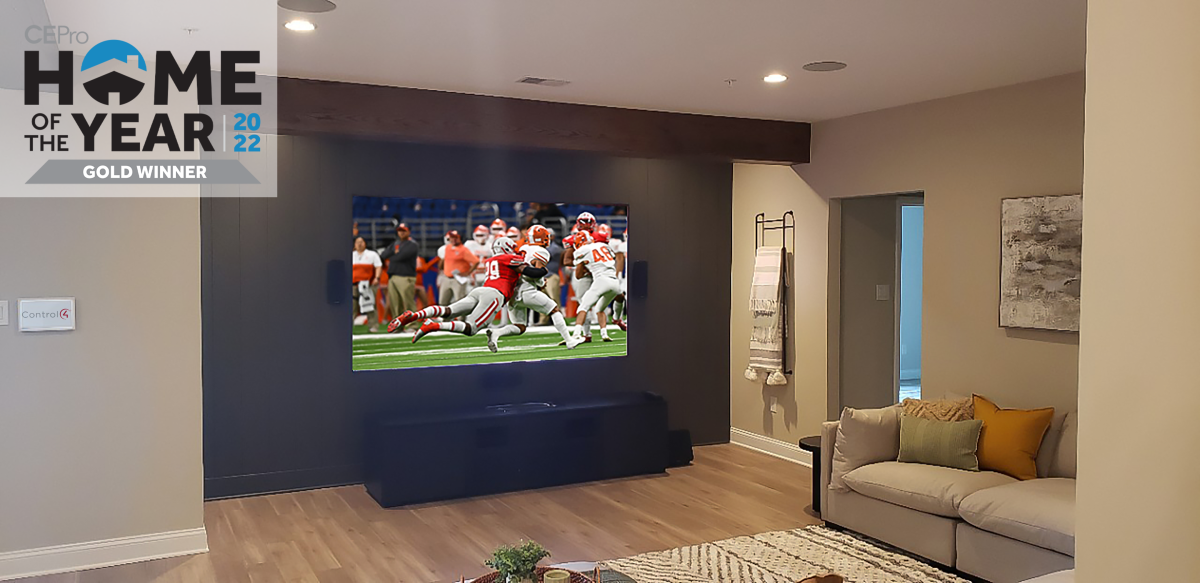 The skilled craftsmanship of Gramophone's team was tasked with remodeling and transforming a dated basement into a beautifully transformed theater space, media room, wet bar, gaming zone, high-tech gym, and guest room. Our designer used their love of sports as a starting point for the overall choices in the design and finishes. It all began with a reference to Camden Yards baseball stadium where you'll most likely see brick, black metal, dark stained wood, and the color Green! Green actually became the perfect color for their cabinetry because it gave the right drama for the wet bar. We pulled in black metal in the faucet and bar lighting and added beautiful stained beams to create the definition of spaces. We also provided furnishings for these spaces that will withstand the use of an active family.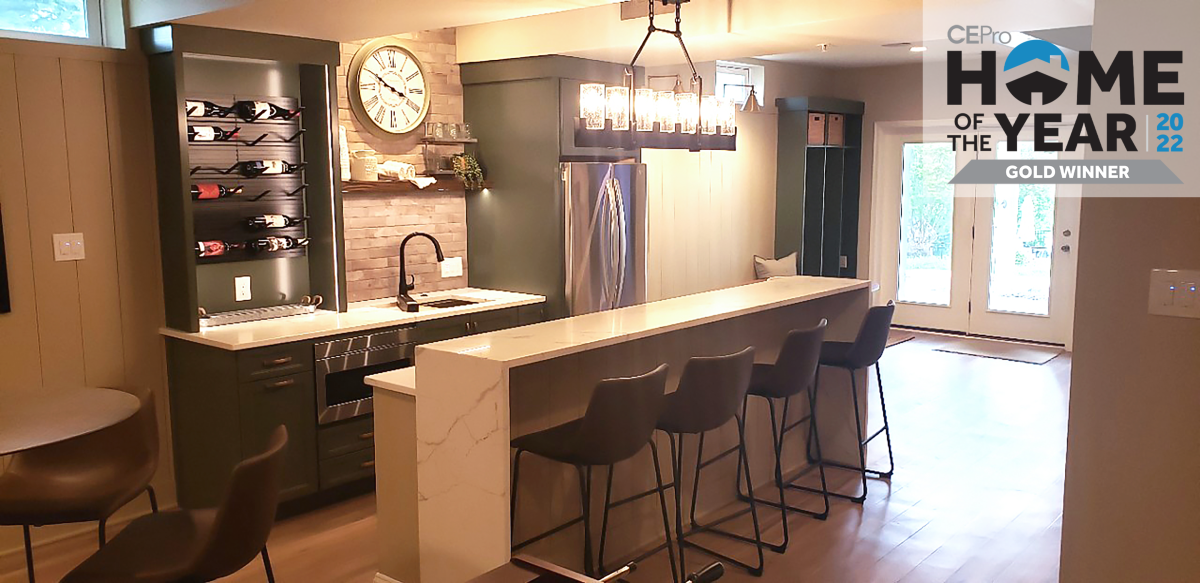 One big challenge that we faced on this project was opening the stairwell. The client wanted to have open sight lines from the gaming area through to the Media Room. Since we were not able to completely remove the wall at the bottom of the stairs, we cut back as much as possible, added a new structural beam and column to carry the load from the main level, and installed new stained and black metal handrails to allow for connectivity between the spaces. Even though we weren't able to remove the wall entirely, we provided the best solution possible and it turned out to be one of the client's favorite design elements.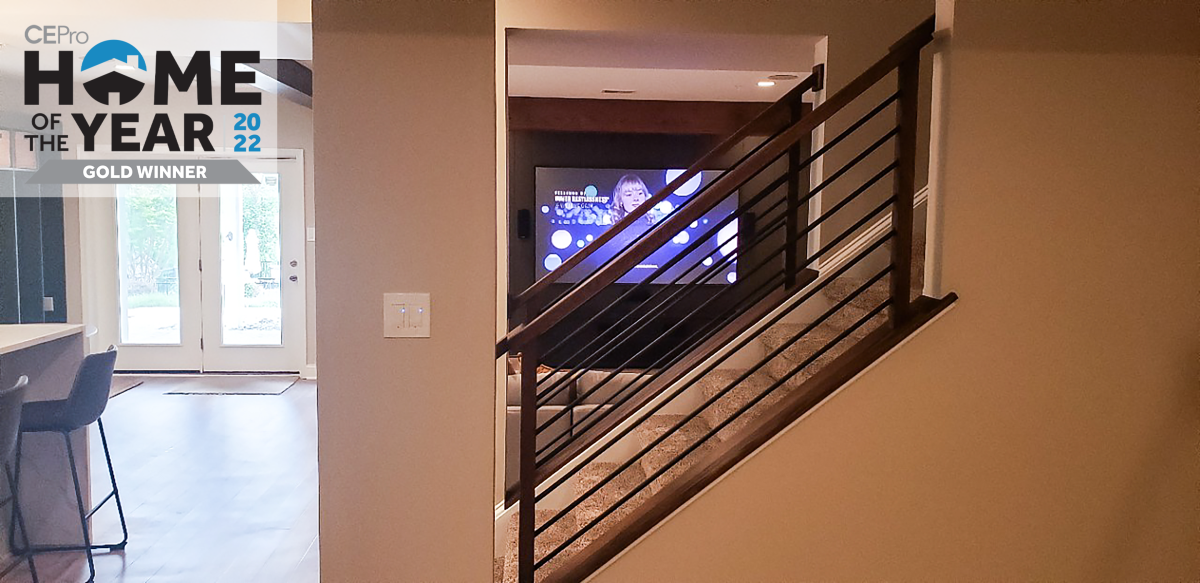 Our client was delighted to be able to entertain and enjoy on day one of our completion and is getting tremendous head turns from those who notice led lit shelves, layered lighting with high-quality fixtures programmed by scene, awesome sound, hidden wire management behind faux shiplap paneling, cozy reading nook, and well thought through interior design finishes. After all, anyone can buy a truckload of gear - it's what you do with it that makes a difference. Mission accomplished, simple, easy to use, impressive for gatherings, and supports all seasons indoors and out.
Visit our inspiring Kitchen Design Center in Hunt Valley, MD, or call our designers at 410-683-0123 to start planning your project!