BDI Sequel Office Furniture - Stylish, Modern, and Functional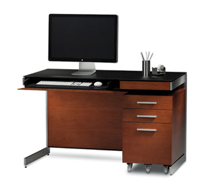 BDI doesn't design home furnishings. BDI is design. By maintaining a clear focus on style and an attention to detail, BDI furniture unites functionality with an aesthetic display. From the corporate office to the home theater, BDI features innovative engineering. Adjustable shelving, hidden wheels, and a cable management system allow you to organize and seamlessly blend your technology into your space. Contemporary, finished designs offer flexibility for a limitless number of customizable configurations, allowing you to build the perfect setup for any sized room. BDI knows design is way more than just looking good.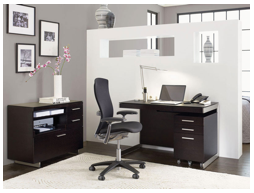 Over the past few months, we have come into work each morning dropping our bags on the desk, flipping through notepads, and proceeding to sit down to the computers to begin the marketing department's day. We eat our lunch in the office as we work, drink our afternoon coffee, and frequently take the journey to the showroom for the ever-impressing demonstrations of speakers, televisions, and iPod docks. But unbeknown to us, we are still in part of the showroom, in fact, using part of the showroom every single day. That is, the entire marketing office is filled with the line of BDI Sequel office furniture.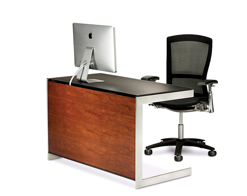 Now that we take the time to really pay attention to our desks, drawers, and cabinets, Sequel is definitely as stylish as it is functional. With expansive desktop space to hold stacks of notes and folders, a computer monitor, office supplies, and to not even look cluttered, well, that takes skill. The smooth black glass top is incredibly easy to clean, especially when the all too familiar coffee ring decides to strike. The leg room is significant and the storage is ample. But the best part? Every wire is concealed in the back panel so nothing is tangled and everything is neat. The drawer even has a pull-down front so even the largest, clunkiest keyboard can be stored neatly yet accessible. 
So with so much style, how do you make BDI home office furniture look even better? Simple, you add the sound. The Audioengine HD6 are a perfect addition to your Sequel furniture. Built-in power amplifiers save space and eliminate the need to connect HD6 to a stereo receiver or external power amp, delivering unparalleled sound to simply make your workday better.
-Julia and Ela